I went to Del Rey last night to see "Splash" at the
Del Rey Artisans
.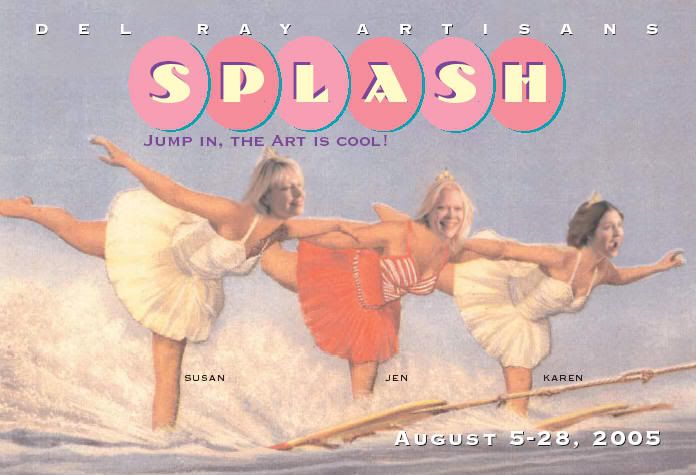 This show featrue the work of three artists
Susan Slattery
Jen Chappell
and Karen Schmitz
I have seen Susan's work for a number of years now, but was really impressed with her paint work in rendering fabric. She uses lush oils and has a soft touch for this, while genreally her compositions are tight, crisp,and orderly.
Jen's photographs focuse on close ups of natural materials. shells, fish, flowers...etc... . While i am generally not the most appreciating enthusiast of photography, i liked staring at her work. It has a subtle elegance to it.
Karen's work included prints and paintings. i didnt take too much notice of her paintings but i thought her prints were terrific. Nice, gestural, somewhat violent, non-objective polychromatic pieces. I get the sense that she has a lot of fun making art.

The opening reception for SPLASH will be held Friday, August 5 (7-10:00 PM). The exhibit will run through Sunday, August 28, 2005. Gallery hours are Saturdays 10:00 AM-4:00 PM, and Sundays Noon–4:00 PM. For more information contact: SPLASH
also, Del Rey has a third thursday happening. TONS of people were out. its not so arts related an evening as the third thursday on 7th street, still. its nice to see more people than cars on the street. VERY happening spot, that del rey. especially if you are a toddler. of which there were millions and millions.