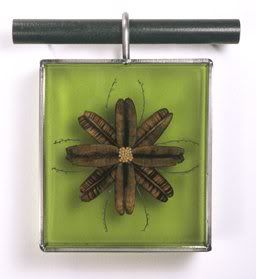 wall hanging by Andrea Haffner




52 O street
is one of the rare pleasures of DC. An entire building of artists studios and live/work spaces.
Seeing work in an artists studio is an unrivalled experience in my books. Where one creates, how one creates, materials and references, and working conditions all come together. A complete picture.
I went into the studios of Betsy Damos,Matt Hollis, Andrea Haffner, Thanasi Papapostolou, and Micheline Kragsbrun Frank.
Thanasi
, is by far, the most skilled figurative artist working in realism that I have met in DC. But because it was the same stuff I saw in their open studios last year, I was disappointed. Still the few pieces he has in his studio are very impressive.
Betsy Damos
's studio is full of her work in constructions of various materials. Metal wood, concrete. I like her work a lot from a previous visit, but just breezed through this time.

Michelines
studio is amazingly impressive and includes what seems like her lifetime of work. Piles and piles of drawings, and many paintings. Her work is somewhat mythic, what instantly draws me to it. She also seems to approach the human figure as a landscape in many pieces. Though a bit airy for my bloodlust and heavier taste in art I liked her work. I liked her studio immensely.
Matt Hollis
work is by far the most creative work in the building. Though again, it seems like the work I saw last year. I still loved it. He creates soft sculptures in abstracted and non objective forms. Using bright colors and soft fabric, he's created a world in his live/work space that is beautiful. If I had a child, I would want this guy to design the playroom. I want to see large scale versions of this guys work. Maybe set designs. Maybe costumes. His work demand that you interact with it. I respond to his work on a very playful level and would love to see more.
Andrea Haffners
work is my favorite of the o street contingent,however. It is simply mesmorizing. i first saw her work at the third
Artomatic
and was duly impressed with her pendulum like creations. i visited her studio at the open house last year too.
using a tip top secret method, she combines tinted resins with natural materials. her compositions of seeds and pods and leaves and branches and flowers are precious, but the addition of a translucient color field makes it otherworldy and stunning. the group i was with and myself had a hard time leaving her studio. when i win the lottery ( that'd be before i have a child and hire matt hollis for the playroom) i want to commision Andrea to fill a room with her creations. the magical/mysterious/scientific curriosities of her work are as beautiful as they are captivating. And she makes jewewlry out of it. brilliant.
She had photographs too, but i either just freakin love a photograph or i'm nonplussed. since hers were mostly in bins, i didnt work for it. besides, i could have spent five more days gazing at her sculptures, i didnt want to waste my time on the colorless pieces of paper.